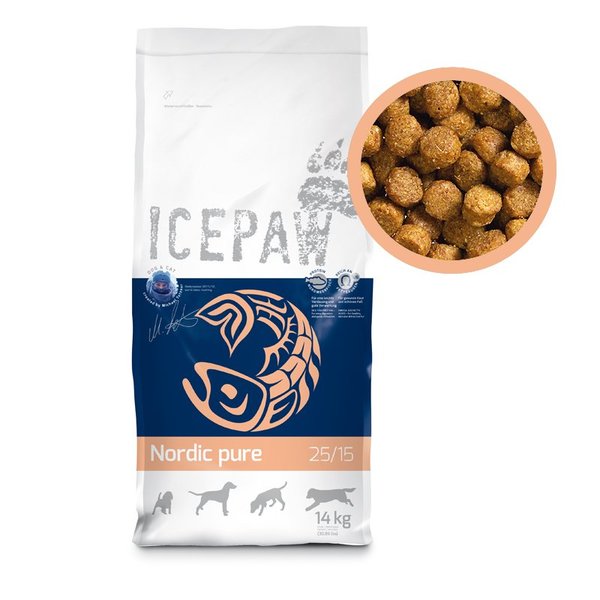 Nordic Pure, Gluten free
Nordic Pure
25% Protein / 15% Fat

100% cereal and gluten free complete food for adult dogs containing valuable salmon.
With a special combination of active agents for
attractive fur
(omega-3 fatty acids EPA and DHA from salmon and linseed oil, biotin, zinc)
stable joints
(Omega-3 fatty acid EPA and DHA ,glucosamine)
reduced allergenic potential
(only one source of protein and carbohydrate)
Salmon and linseed contain natural Omega- 3 and Omega- 6 fatty acids,which help to encourage a perfectly healthy coat and skin. Prebiotic inulin promotes healthy intestinal flora.
available in 14kg bag
Feeding guide

| | | |
| --- | --- | --- |
| Dog Weight (KG) | Normal active (g/day) | Active (g/day) |
| | | |
| 2.5 | 55 | 70 |
| 5 | 95 | 120 |
| 7.5 | 130 | 165 |
| 10 | 160 | 200 |
| 15 | 220 | 275 |
| 20 | 270 | 340 |
| 30 | 365 | 460 |
| 40 | 455 | 570 |
| 50 | 535 | 675 |
| 60 | 615 | 775 |
| 70 | 690 | 870 |
| | | |
| | | |
| | | |
| | | |