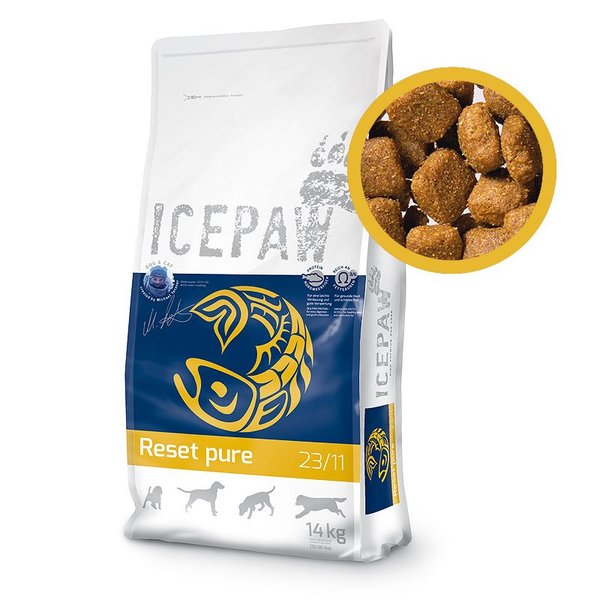 Reset Pure Gluten-free
Reset Pure
23/11
As a regimen at the start (31 days)of the diet change over phase - any impairments which may be present are resolved.
With a special combination of active agents for
Attractive fur
(Omega -3 fatty acids EPA and DHA, from salmon and linseed oil, biotin, zinc)
Stable joints
(Omega -3 fatty acids EPA and DHA, glucosamine)
Protection of cells and tissue
(Rosmarinextrakte, tocopherole, vitamin E and C, Selen)
Icepaw Adult Pure is gluten-free, it is therefore also suitable for food sensitive dogs with a tendency to food intolerance's.
But also for use in an elimination diet, to test allergies to other types of cereals or animal protein sources.
Available in 14kg
Composition:
Fish flour (herring) 23%, Rice 22%, Rice flour 22%, Poultry fat, Broken rice 6%, Salmon oil 4%, Dried beet pulp,Linseed oil 0.2%, Rosemary extract 0.01%, Glucosamine-HCI 0.01%,Yucca schidigera 0.01%
Nutritional additives (per kg)

Vitamin A 18000 I.E.
Vitamin D3 1800 I.E.
Vitamin E 330 mg
Vitamin B1 8.6 mg
Vitamin B2 12.9 mg
Vitamin B6 4.6 mg
Vitamin B12 72 mcg
Taurin 2000 mg
Vitamin C 200 mg
Choline chloride 960 mg
d pantothenic acid 24 mg
Nicotinic acid 54 mg
Folic acid 1.4 mg
Biotin 480 mcg
Iron as Iron-II-Sulphate (E1) 91 mg
Zinc as zinc Sulphate (E6) 160 mg
Manganese as Manganese-II-oxide (E5) 33 mg
Copper as copper-II-sulphate, pentahydrate (E4) 16 mg
Cobalt as cobalt-II-sulphate (E3) 1 mg
Iodine as potassium iodide (E2) 1.5 mg
Selenium as sodium selenite (E8) 0.3 mg

Antioxidants :
Extracts containing large quantities of tocopherol of natural origin.